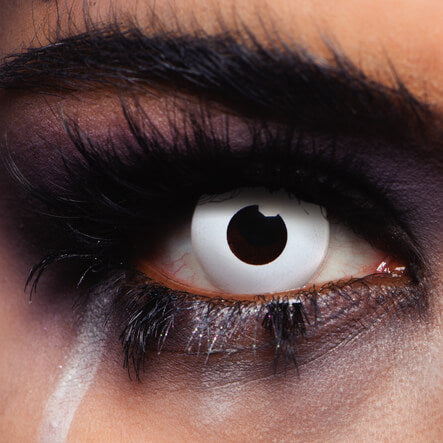 Whiteout
---
Sold as a pair and available in either 1 Day, 3 Month or 1 Year. Please add solution care kit separately.
Get the freaky look with these White Coloured Contacts. These crazy looking coloured contacts are guaranteed to get you noticed. Where them with a costume to really finish of the look or wear them on their own for a real conversation starter. Completely covering your natural eye these coloured contact lenses make you look like you've just walked of a horror film set. Your friends will truly be amazed when you show up wearing these coloured contacts. For use with Halloween costumes, fancy dress, and extreme fashion or for just having some fun these coloured contacts will certainly make you look unique. These coloured contacts can be worn for 8 hours and will keeps your eyes feeling fresh, hydrated and comfortable.
Perfect impulse buy

for any Cosmetics Shop, Fashion accessories, Beauty Salon, Pharmacy.

MONEY BACK GUARANTEE

, for any reason with first order!!!

100% Margin

& takes very little space.

FREE Marketing Stand

available with first order over £250.

FREE Marketing material

with all orders.

FREE Swap service

swaps any colour for a more popular colour at any time, no extra charge.

London Fashion Week

, Vogue & Grazia.

Beat any competitor's price

, just contact us!

Dedicated Account manager,

Speak to a real person!

SkinSoft & MesmerColour Technology

– only MesmerEyez feels like your wearing nothing on your eyes.

British Brand, British Quality

, European Quality Certified.

The UK's No 1 Brand, Multi Award winning Company.
Want the best White Out contact lenses the UK has ever had?
Set yourself up and get yourself some today from the top coloured contact team at MesmerEyez Wholesale.
These lenses defy the senses. We're talking shockingly good and freakily fun contacts.
Why are White Out Halloween contact lenses so popular?
They're the perfect start to a heart-stopping outfit. Whatever kooky or spooky costume someone is wearing goes up a whole new level with these dead set winners.
Halloween Hall of Fame
If there was a Hall of Fame for the best accessories or finishing touches to a Halloween outfit then these special coloured contacts would be there.
No-one needs to worry about what to wear with these wicked wonders ready to wear. They take all the pain out of thinking about how to put the perfect costume together.
With a simple pair of White Out Halloween contact lenses, anyone's imagination is ready to go wild with ideas and ready to enjoy a wild night of fun and freak-outs.
Top looks and top sellers
You can forget about deadstock with the true dead-set deadly lenses. Anyone who gets just one look at these eerie eyes will be itching to get their hot little hands on these cool contacts.
Even the quiet types won't shy away from buying a pair of the top-selling Halloween contacts. Just wearing a pair means opening up a different side of their personality and stepping into a fun and freaky role.
Looking for a special zombie look? They've got it.
Want to go the full vampire or ghostly ghoul? These lenses are frighteningly fabulous.
Stock up now and see just how quickly the shelves get emptied. The buzz around White Out Halloween contact lenses is spreading every day.
Watch how White Outs sell out
The best-selling White Out contact lenses in the UK and beyond are yours for the taking. You could be making a whole lot of extra cash without making much effort at all.
Order your sets of Halloween contacts from the great range at MesmerEyez Wholesale.
Customers love them and you'll love seeing how easy it is to make some easy money. For more, contact MesmerEyez Wholesale today.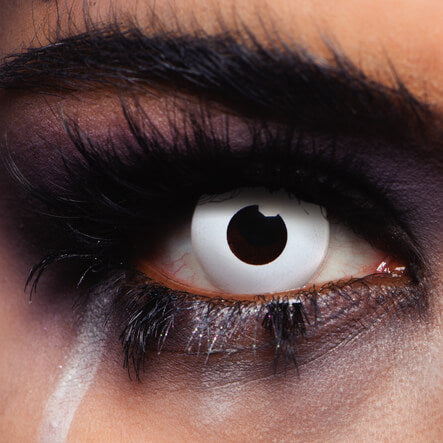 Whiteout
Sale price

$13.00
Regular price
(/)