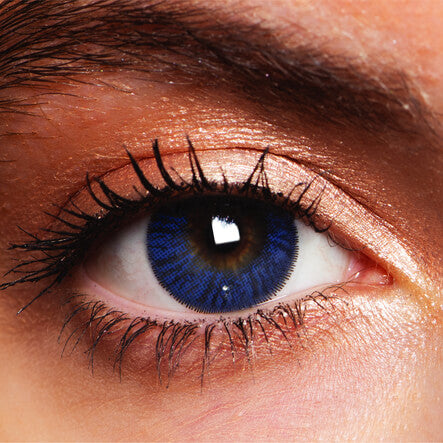 Misty Blue
---
Sold as a pair and available in either 1 Day,3 Month or 1 Year. Please add solution care kit separately.
Easily switch your look with these Misty Blue Colour Contact Lenses. Designed to strongly change your eye colour. These Misty Blue Coloured Contacts are perfect for those wish to change their eye colour to the colour they always wanted.
Perfect impulse buy for any Cosmetics Shop, Fashion accessories, Beauty Salon, Pharmacy.
MONEY BACK GUARANTEE, For any reason with first order!!!
100% Margin & takes very little space.
FREE Marketing Stand available with first order over £250.
FREE Marketing material with all orders.
FREE Swap service swap any color for a more popular colour at any time, no extra charge.
London Fashion Week, Vogue & Grazia.
Beat any competitor's price, just contact us!
Dedicated Account manager, Speak to a real person!
SkinSoft & MesmerColour Technology – only MesmerEyez feels like your wearing nothing on your eyes.
British Brand, British Quality, European Quality Certified.
The UK's No1 Brand, Multi Award winning Company.
Get the Mystery of Misty Blue contact lenses working for you
Blue has always been a captivating colour. There's something special about how deep and delicate shade of blue can be. That's where Misty Blue contact lenses have a magic all their own.
Where do you find that Misty Blue magic? It's right here with MesmerEyez.
Whether you admit it or not, we all know that first impressions count. That's where eyes play a key role in how you are perceived. Having something unique and mysterious in the look of your eyes makes you a more intriguing and interesting person.
Now everyone has the chance to take that step into a true transformation with help from the incredible range of MesmerEyez lenses.
Maybe seeing the same brown eyes looking back in the mirror is becoming boring. Maybe it's hazel eyes that have lost their shine. Even blue eyes can do with a little extra sparkle and that's why Misty Blue contact lenses can make all the difference.
Misty Blue creates a mood
There's a whole range of different blues out there, from Royal Blue and Indigo to Crystal, Sapphire and Midnight blue, there's something for everyone. Blues conjure up the positive and uplifting qualities of peace, trust and loyalty.
Then there's the mesmerising charm of Misty Blue. It's a colour that has a soothing and calming effect that's memorable from the moment you first lay eyes on it.
It's no wonder that Misty Blue contact lenses are one of the top sellers in the world of coloured contacts – not just in the UK, but all around the world.
The ever-growing market for coloured contacts
Everyone is looking for coloured contacts that can give them the perfect look. They're also looking for the perfect mix of great colour in a quality product and at a great price.
That's where MesmerEyez comes into the picture.
With a pair of Misty Blue lenses from the MesmerEyez range, there's no looking back. The future is yours and the adventure is just beginning.
You can have the extra edge with a pair of Misty Blues working for you. It's a chance to charm and captivate without even trying.
Try a pair and see the difference for yourself.
Spoiled for choice
The great thing about Misty Blue contact lenses from MesmerEyez is that you get; a choice of 1 month, 3 months or 1 Year lenses.
a certified EU quality product
a range from the UK's number one, award-winning brand
the backing of the experts in coloured contacts
With MesmerEyez coloured contact lenses, you know you're getting the best of the best.
MesmerEyez Wholesale still remain dedicated to constant innovation. It's just one of the reasons we're leaders in the world of coloured contact lenses.
What are you waiting for?
Having that great look can start today. You'll see yourself in a whole new light with your new pair of Misty Blue contact lenses.
And if you want to browse your way through all the other shades of blue, there's an incredible range of blue contacts all ready to go.
Get it the MesmerEyez Wow Factor happening for you now.
If you'd love to stock any of the MesmerEyez collection of impeccable lenses, you'll be on a winner.
Grab your chance to sell a great product and the perfect impulse buy for your Beauty or Hair salon, cosmetics shop, fashion accessories store or pharmacy.
You can contact us right here and get a special Starter Pack on its way to you.
Read more