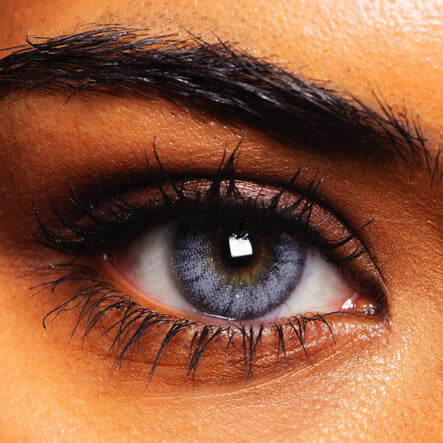 Maria White
---
Sold as a pair and available in 1 Day, 3 Month or 12 Months. Please add solution care kit separately.
Perfect impulse buy for any Cosmetics Shop, Fashion accessories, Beauty Salon, Pharmacy.
MONEY BACK GUARANTEE, For any reason with first order!!!
100% Margin & takes very little space.
FREE Marketing Stand available with first order over £250.
FREE Marketing material with all orders.
FREE Swap service swap any color for a more popular colour at any time, no extra charge.
London Fashion Week, Vogue & Grazia.
Beat any competitor's price, just contact us!
Dedicated Account manager, Speak to a real person!
SkinSoft & MesmerColour Technology – only MesmerEyez feels like your wearing nothing on your eyes.
British Brand, British Quality, European Quality Certified.
The UK's No1 Brand, Multi Award winning Company.

Maria White contact lenses – Give you the Wow factor!

Feeling a little bored with your eye colour?
Tried a few basic colours already?
Get yourself a pair of Maria White contact lenses and you'll never look back.
You can have that 'something special' that we all look for shining out of your eyes.
The soft and subtle colouring is pure seduction and it works wonders whatever your natural eye colour and natural hair colour. The transformation gives you a chance to be a trend setter.
Maria White is the new Black
There's a mystery and magic about Maria White contact lenses.
It could be the way the suggestion of the darker grey outer ring or the hint of something special in the way the colour drifts its lines throughout the eye.
Whatever it is, there is an almost hypnotic effect that makes these lenses enthralling. Is it any wonder than people are falling over themselves trying to get a pair of the contacts that everyone has fallen in love with?
Wouldn't it be great to be able to be selling such a great product yourself? Now you can.
White Hot sales
The demand for coloured contacts is growing every day.
The market for the best coloured lenses is begging for more and more variety.
That's where MesmerEyez Wholesale do it all a whole lot better than any other supplier.
First up you get great quality products to sell – all certified under strict EU quality assessment.
Then you get the bonus of a full Money Back Guarantee on your first order – for any reason, no questions asked.
Whether it's the mysterious power of Maria White contact lenses or the seductive nature of Fifty Shades, there's a long list of incredible lenses available from MesmerEyez Wholesale.
You can get a great mix of beautiful natural lenses, special Sclera contacts and, of course, the top selling Halloween contacts too.
There's something here for everyone and anyone who wants to transform their appearance in the easiest and most cost-effective way. The entire range is quality through and through, that's how MesmerEyez has come to be the most trusted name in coloured contacts.
You can see how easy it is to sell these amazing coloured contacts. Wondering how to get yourself rolling? It's easy - just order the special Starter Pack.
Your fashion accessories store, hair or beauty salon, cosmetics store or your pharmacy will have a great new profit making enterprise up and running in no time. You'll soon see why these are a top selling item and the perfect impulse buy for your customers.
You can take advantage of the chance to sell the UK's Number One brand of coloured contacts. It all comes with the benefits of;
100% Margin

.

British Made Quality

- European Quality Certified.

FREE Marketing Stand

available with first order over £250.

FREE Marketing material

with all orders.

FREE Swap service

- swap any colour for a more popular one at any time, no charge.

All set up with a minimum of fuss and a minimum of precious store space
Plus you will be able to talk to your own Account Manager. That's a real live human being who can help you when you need it.
Imagine strong sales and easy profits. It all starts with MesmerEyez coloured lenses.
Get your stock of the coloured contact lenses that rock. Contact us today - right here.