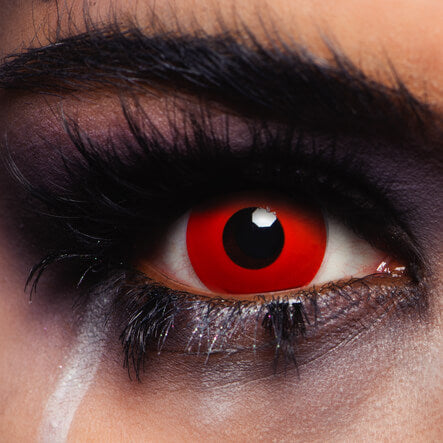 Bloody Red
---
Sold as a pair and available in either 1 Day, 3 Month or 1 Year. Please add solution care kit separately.
Get the freaky look with these Red Coloured Contacts. These crazy looking coloured contacts are guaranteed to get you noticed. Where them with a costume to really finish of the look or wear them on their own for a real conversation starter. Completely covering your natural eye these coloured contact lenses make you look like you've just walked of a film set.
Perfect impulse buy

for any Cosmetics Shop, Fashion accessories, Beauty Salon, Pharmacy.

MONEY BACK GUARANTEE

, for any reason with first order!!!

100% Margin

& takes very little space.

FREE Marketing Stand

available with first order over £250.

FREE Marketing material

with all orders.

FREE Swap service

swaps any colour for a more popular colour at any time, no extra charge.

London Fashion Week

, Vogue & Grazia.

Beat any competitor's price

, just contact us!

Dedicated Account manager,

Speak to a real person!

SkinSoft & MesmerColour Technology

– only MesmerEyez feels like your wearing nothing on your eyes.

British Brand, British Quality

, European Quality Certified.

The UK's No1 Brand, Multi Award winning Company.

Bloody Red contact lenses run out the door
When it comes to fancy dress and Halloween, everyone is looking for that something special.
No-one wants to look like everyone else or worse, get dressed in the same old costume.
That's why Bloody Red eye contact lenses are in such demand.
The look just blows everyone away.
It's a look that is freaky and freakily good. It's almost scary how quickly they sell.
A life of their own
The best thing about Bloody Red eye contact lenses is the attention they bring.
Anyone who pops a pair of these wicked wonders in is transformed.
It's one of the most mesmerizing looks around.
These beauties are real winners with a growing number of happy customers. The power of the look is one thing, the power of these are an impulse buy is incredible.
You can buy red contacts wholesale today and see how easy it is to add value to your beauty salon or hairdresser's.
It's no surprise that coloured contacts from MesmerEyez Wholesale are such big sellers. These are quality lenses that you can set up on their own special stand and then sit back and watch them getting snapped up in no time. The great part is how little space they take up in your store.
A Costume Party Classic
Halloween and costume parties can be a big money-spinner for you. All you need to do is set yourself up with some MesmerEyez lenses and you're away.
Whether someone's going for a killer Halloween look or fantastic fancy dress outfit, Bloody Red eye contact lenses are a classic way of getting the best look possible. It's just one example of the many top selling choices from the Halloween contacts range available at MesmerEyez Wholesale.
With free marketing material, free swap service and 100% margin – you can't go wrong with these quality contacts.
And remember the special MONEY BACK GUARANTEE with your first order!
The Best Bloody Red eye contact lenses and more!
Don't miss your chance to make more with your store. Whether you buy red contacts wholesale or any of the other amazing colours, you'll see the difference these great contacts can make to your profits. Get a slice of the Halloween and Fancy Dress market now with MesmerEyez Wholesale.
Contact us today.